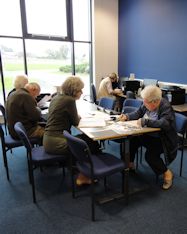 Volunteers
The Museum operates with the assistance of local volunteers who help list items gifted to the museum, assist in answering research queries, assist in curating exhibitions and take part in research projects.
If you would like to become a volunteer, visit the museum to find out more or submit the attached form.
Volunteers Form
Special Events in 2017

23rd April:
"Portmoak Myths and Legends" - walk led by David Munro (see our Portmoak page) - (Walk is now fully booked)

11th May:
'Kilmagadwood Early Bronze Age Cemetery', an evening of presentations by Alison Sheridan, Aida Romera and Derek Hall. 7pm at Kinross (Marshall) Museum

9th July:
'Walking Kinross-shire's Michael Bruce Way', a 3-hour walk led by Professor David Munro, MBE, to mark the 250th anniversary of the death of Michael Bruce (1746-67), the 'Gentle Poet of Loch Leven'. 2pm starting at Portmoak Parish Church car park.

12th August:
Come and visit us in a tent at the Kinross Show

27th August:
'Exploring the Kirkgate Park and Churchyard, Kinross', a two-hour walk led by Professor David Munro, MBE, starting at 2pm by the Watchtower in the Kirkgate Park by Loch Leven, Kinross.