2017 has been designated 'The Year of History, Heritage and Archaeology', a year that is celebrating our country's unique history and heritage with a programme of activity aimed at supporting and driving the nation's tourism and events sector.

Kinross (Marshall) Museum in association with partner groups in the Parish of Portmoak have been successful in obtaining grants from the Heritage Lottery Fund and Historic Environment Scotland in support of a year-long community programme of events that include walks, talks, archaeological fieldwork and creative workshops with school children designed to tell the fascinating story of Portmoak through the ages.
Watch this space for future events as they are advertised.

To find out more about Our Portmoak events in 2017 go to the web links below:
https://ourportmoak.files.wordpress.com/2017/03/our-portmoak-calendar-26-april-2017.pdf

https://ourportmoak.files.wordpress.com/2017/04/event-details-final-version-28-april-20172.pdf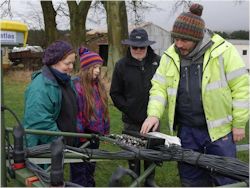 Archaeologist Dr Oliver O'Grady trains community volunteers how to use a magnetometer which helps give a clear image of what lies under the ground.

For more information contact ourportmoak@kinrossmuseum.org.uk